Morpheus Integrated with Photobucket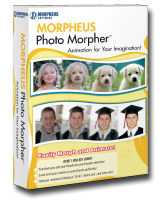 The latest versions of Morpheus Software's photo animation and manipulation titles Morpheus Photo Morpher, Morpheus Photo Warper, Morpheus Photo Mixer, and Morpheus Animation Suite are now integrated with Photobucket. Built using Photobucket's API, the Morpheus titles provide Photobucket's nearly 40 million users with the ability to morph and warp digital photos for fun and to then upload their morphed, warped, and blended photo animations and videos directly from inside the Morpheus programs to their Photobucket page.
Get Creative with Morpheus and Photobucket!
Morph your baby photo into your own picture today.
Transform your wife into her mother or your husband into one of the Beatles.
Morph your son or daughter into a grandparent, or turn your parents into their parents.
Transform yourself into a celebrity!
Animate photos of friends or family, celebrities, pets, politicians - anyone or anything!