Smith Micro's Consumer Group Launches Morpheus Photo Animation Suite Into Retail Market.
Company Extends Its Consumer Product Line by Entering Into Exclusive Publishing Deal With Morpheus Software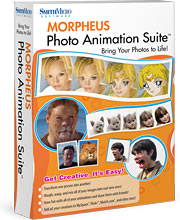 ALISO VIEJO, Calif., Oct. 5 /PRNewswire-FirstCall/ — Smith Micro Software, Inc. (Nasdaq: SMSI – News) today announced it has signed an exclusive publishing agreement with Morpheus Software, LLC., a leading publisher of digital photo animation software. The company's pioneering product, known as Morpheus Photo Animation Suite™, contains three easy-to-use, creative photo animation products — Morpher, Warper and Mixer. These products enable users to morph, distort, exaggerate, or blend portions of multiple images into a single image. More…
Also check out Smith Micro's clean presentation of Morpheus Photo Animation Suite in the graphics section of their online software store.